Frequently asked questions
How much is delivery?
---
FREE pick-up/drop off at these two Strip Locations: -Las Vegas Blvd and Tropicana Ave -Las Vegas Blvd and Sahara Ave No deposit plus free delivery if you use our photographer! Delivery is $5 to most local residential type locations but may be higher in rural outlying areas. A $5 charge applies to Downtown and Strip Hotel Locations, as well as congested locations. -Delivery charge is per each way. (delivery + pick up) -Delivery is only available for orders over $15 -Delivery/Pick-up is curbside only -Contact us for details
---
What if I have a specific color of flower that I need?
---
We can help with that. Just contact us via email on our customer service page or give us a call. We'll do our best to create something specially just for you!
---
Are you located on the Strip?
---
We have 2 pick-up/drop-off locations on The Strip.
Sahara Ave + Las Vegas Blvd
Tropicana Ave + Las Vegas Blvd
---
What if I fall in love with my bouquet? Can I purchase it?
---
You sure can. We'll just keep your deposit and it's yours! Or you can call us with a special order and it's yours to keep!
---
How far in advance should I reserve my bouquet?
---
Las Vegas is a very unique wedding destination and the majority of brides reserve just days before. But we suggest at least one to three months if possible so you don't lose out on your choice for your wedding day or styled photoshoot.
---
How much is the deposit?
---
The deposits range per item. A bridal bouquet runs anywhere from $0-$100. We don't take the deposit until you pick up your bouquet and you'll get your deposit back right away, on the spot when you return your bouquet, less the rental cost. (notwithstanding some odd situation) Our decor and backdrop pieces range in price, please contact us for information.
---
Do the flowers look real?
---
YES! When ever possible we use the real-feel type of flower so when you touch it it feels as real as it looks! They even SMELL real! We also use natural products such as dried leaves and grass.
---
Do I have to mail my flowers back?
---
Nope, we are local in Las Vegas and we will come and pick them up or you can drop them off at no cost.
---
Do you ship to other states?
---
Well, yes and no, we are located in Las Vegas and we hand-deliver only to Las Vegas and surrounding areas. We do however sell (and ship) our bouquets throughout the United States for purchase.
---
Can you tell me, how do I hold my wedding bouquet?
---
Yep, here is the answer to a seldom asked but often SHOULD be asked question! As any wedding photographer will tell you, this is a pet-peave. Basically, hold your bouquet with both hands. Unless one of your hands is holding something precious like your child, your father (or whomever) walking you down the aisle, your partner walking you out of the ceremony or the all-important cocktail which you SHOULD have been holding long before the ceremony even started to calm your nerves. Relax your arms and bring your thumbs to your belly-button.
Your elbows will be slightly bent. HOLD YOUR BOUQUET on the top end of the stems, meaning near the top under the flower. Don't hold your hand-tied bouquet at the bottom of the stems. no no no! The ribbon wrap is meant for you to hold it. SO HOLD IT there! Don't hold your bouquet up in front of your face, or up in the air (unless you're celebrating with an astounding YAHOO!) The bouquet is meant to sit under your boobs, around your belly area. (and I know many of you are happy about this location, I know I am) If you've got a smokin' bod, then by all means, drop that bouquet by your side, hold it flower-side to the ground and EMBRACE YOUR CURVES SISTAH! You got this!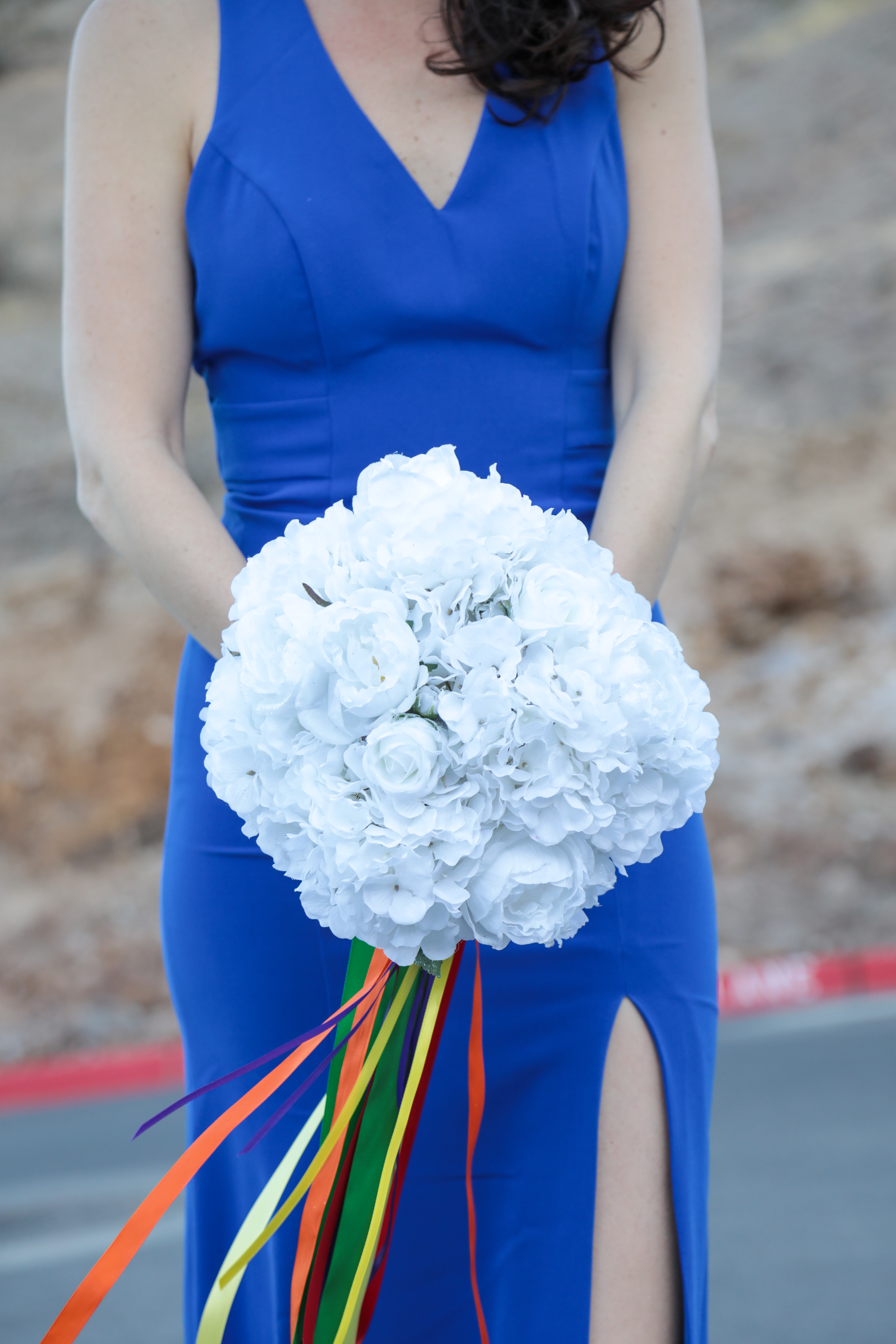 ---
How do you pin on a boutonniere?
---
Use 2 pins if possible to avoid the flower from leaning from one side or the other. Take one pin and from behind the lapel, insert the pin from the top and press to the bottom. The second pin can be inserted in the same way but at a lower point into the stem. This avoids anyone from getting poked when hugged (and we KNOW this is a big part of your big day)!
---
---
Our calendar is FULL!
​
At this time, we are unable to add any additional rental dates.
Thank you everyone for your amazing support!
​
Please check back!